TEEN HEALTH 360: OPEN CALL RESULTS
Social media campaign for the community engagement component of a pilot public health initiative.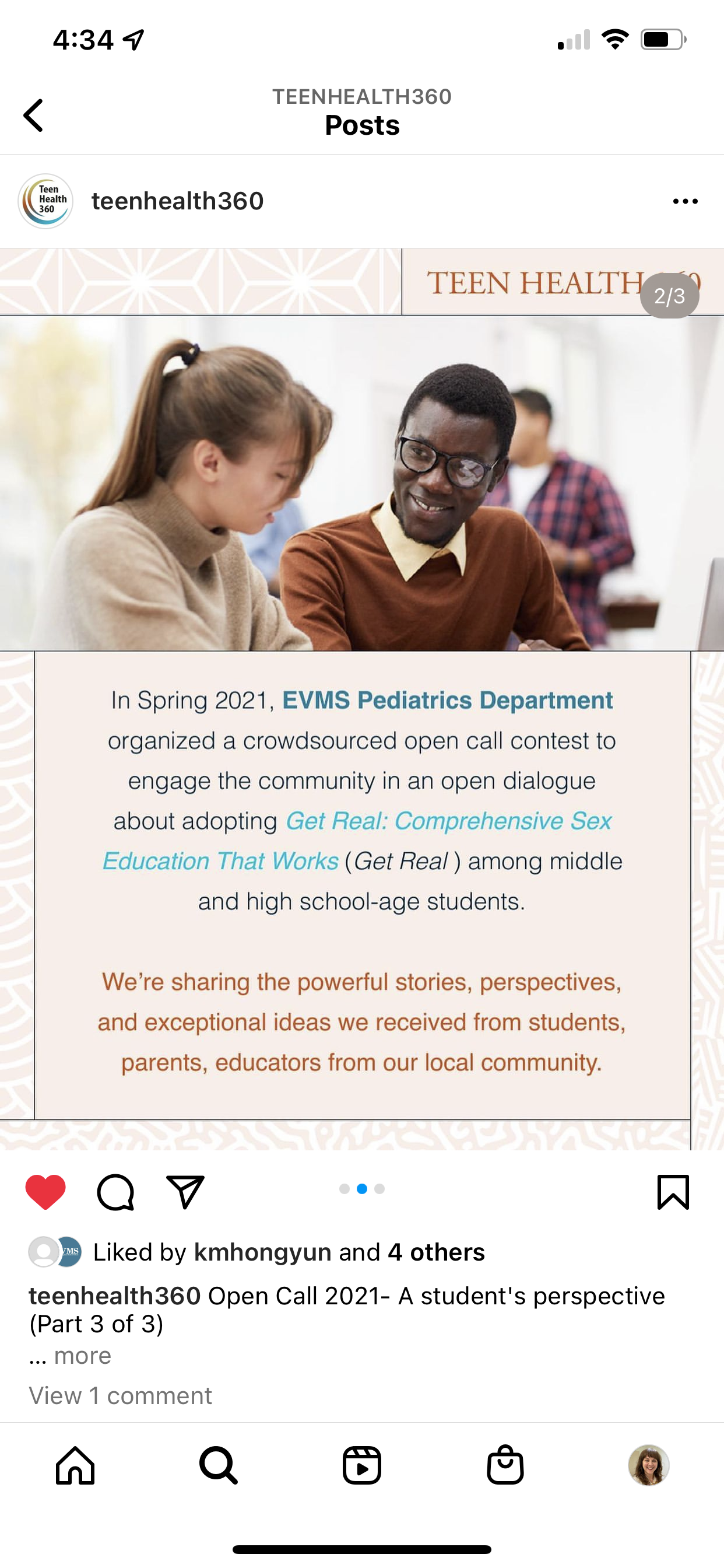 With funding support from the Virginia Department of Health (VDH) / Health Resources and Services Administration (HRSA), EVMS partnered with Norfolk community organizations to implement 'Get Real: Comprehensive Sex Education That Works' (Get Real) developed by the Planned Parenthood League of Massachusetts (PPLM) among school-age youth in Norfolk, Virginia.
The final deliverables included social media content: 130+ individual images designed for the Instagram platform, which can be viewed live at @teenhealth360.
The client was also provided with a project Playbook that contains all project assets, design files, Google Drive links, project color scheme documentation, and reference documents for handoff to the social media manager.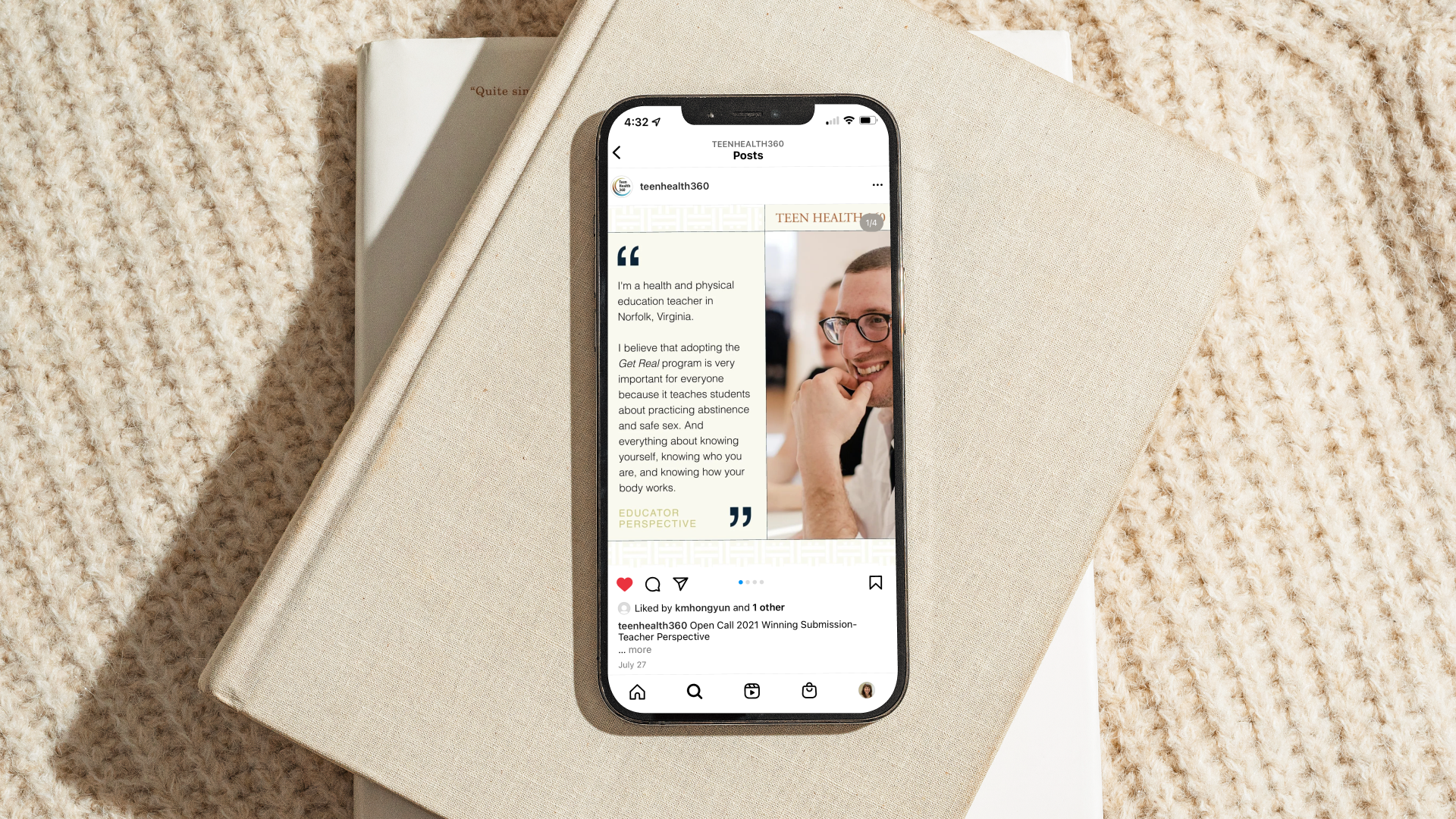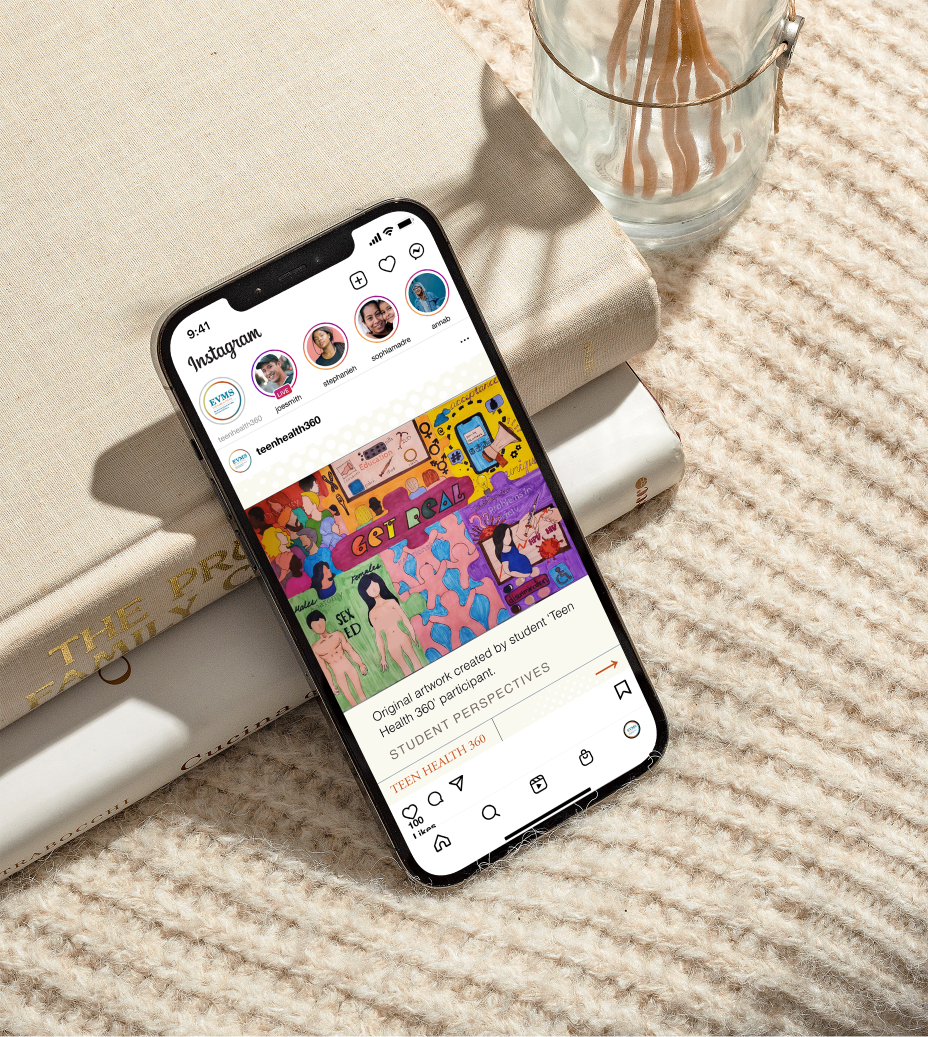 PROJECT OVERVIEW
EVMS Pediatrics Department organized a crowdsourced 'open call' contest to engage the community in an open dialogue about adopting "Get Real: Comprehensive Sex Education That Works" (Get Real), among middle and high school-age students. After receiving submissions in a variety of formats from the local community, they wanted to share the powerful stories, perspectives, and exceptional ideas they received from students, parents, and educators.
During a time when COVID-19 restrictions did not allow for in-person promotional events or collaboration, engaging the community in an open dialogue about adopting 'Get Real' for family life education through the use of social media provided a safe, effective method of beginning to share information about the program and it's potential to positively affect community health outcomes.
As pandemic-related restrictions ease, the benefits of using digital platforms to continually engage community stakeholders in open dialogue about the adoption and delivery of the 'Get Real' curriculum is providing EVMS with a feasible strategy to support the adoption and delivery of the curriculum now referred to independently as "Teen Health 360."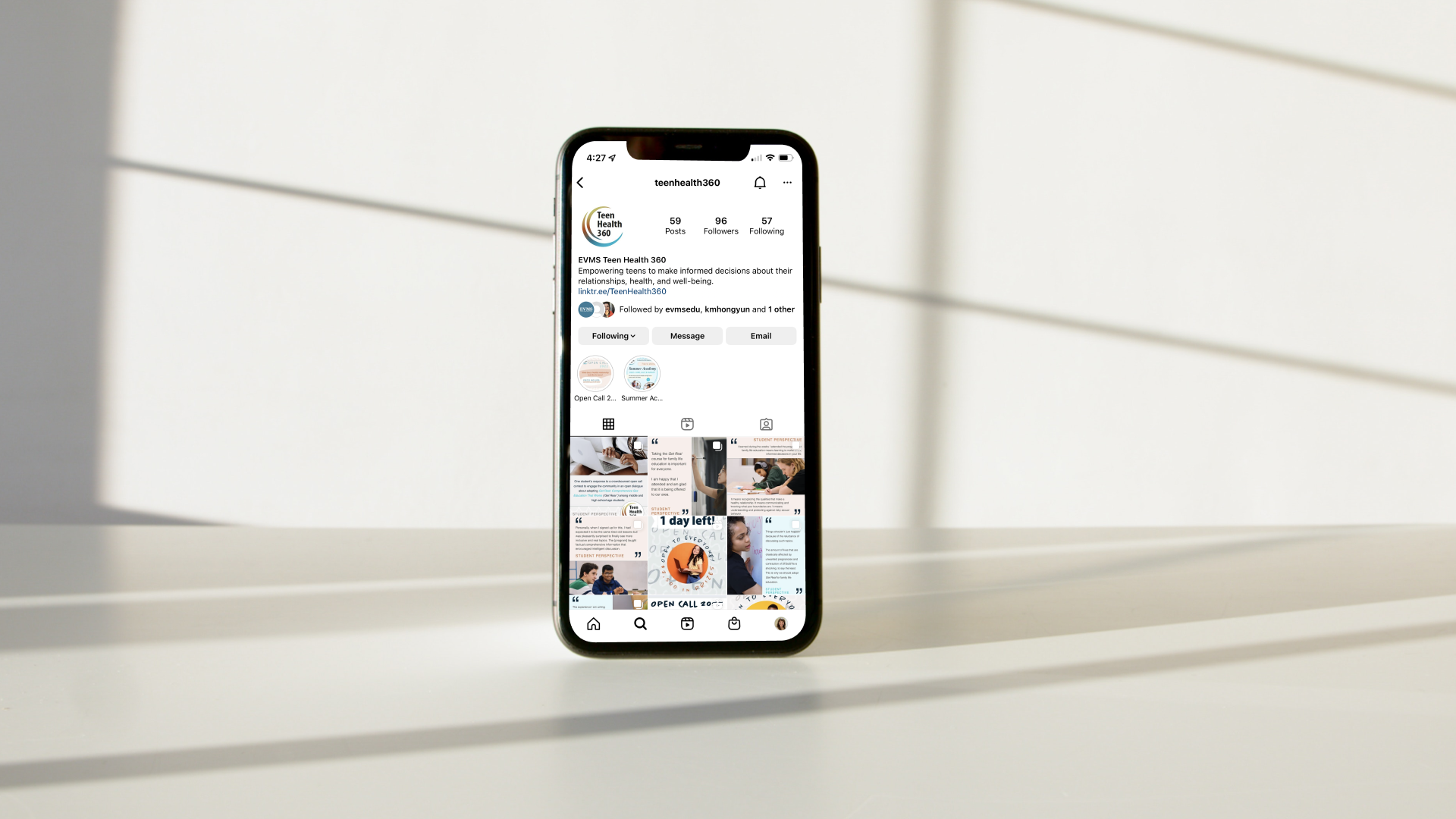 PROBLEM STATEMENT
The EVMS Pediatrics Community Health and Research team uses community-engaged research methods to develop ways to promote the health and safety of children and teens. For the pilot program that is now known as "Teen Health 360" many methods of in-person investigation, research, and direct feedback acquisition were not available due to COVID-19 safety restrictions.
The team had to quickly adapt to working remotely and develop ways to safely disseminate the results of their crowdsourced public health project, or face having to put that component of the project on indefinite hold.
SOLUTION
Due to EVMS' implementation of the curriculum being in the preliminary stages, the program's online presence was still under development by the institution's in-house marketing and communications department. The team realized that social media platforms could provide a faster way to reach the community while the institution continues to work on core digital assets such as a stand-alone website.
The Teen Health 360 team also recognized the value of establishing an initial online presence to begin promoting the program to local students, parents, educators, public school officials, and other community stakeholders.
Working remotely, we explored and developed ideas for disseminating the content of the open call submissions together, and I then developed the visual assets for the project along with a content calendar for a quarterly cycle (3-4 months).
The final assets and documentation were combined into an easily shared cloud workspace for institutional approval and handoff to social media management.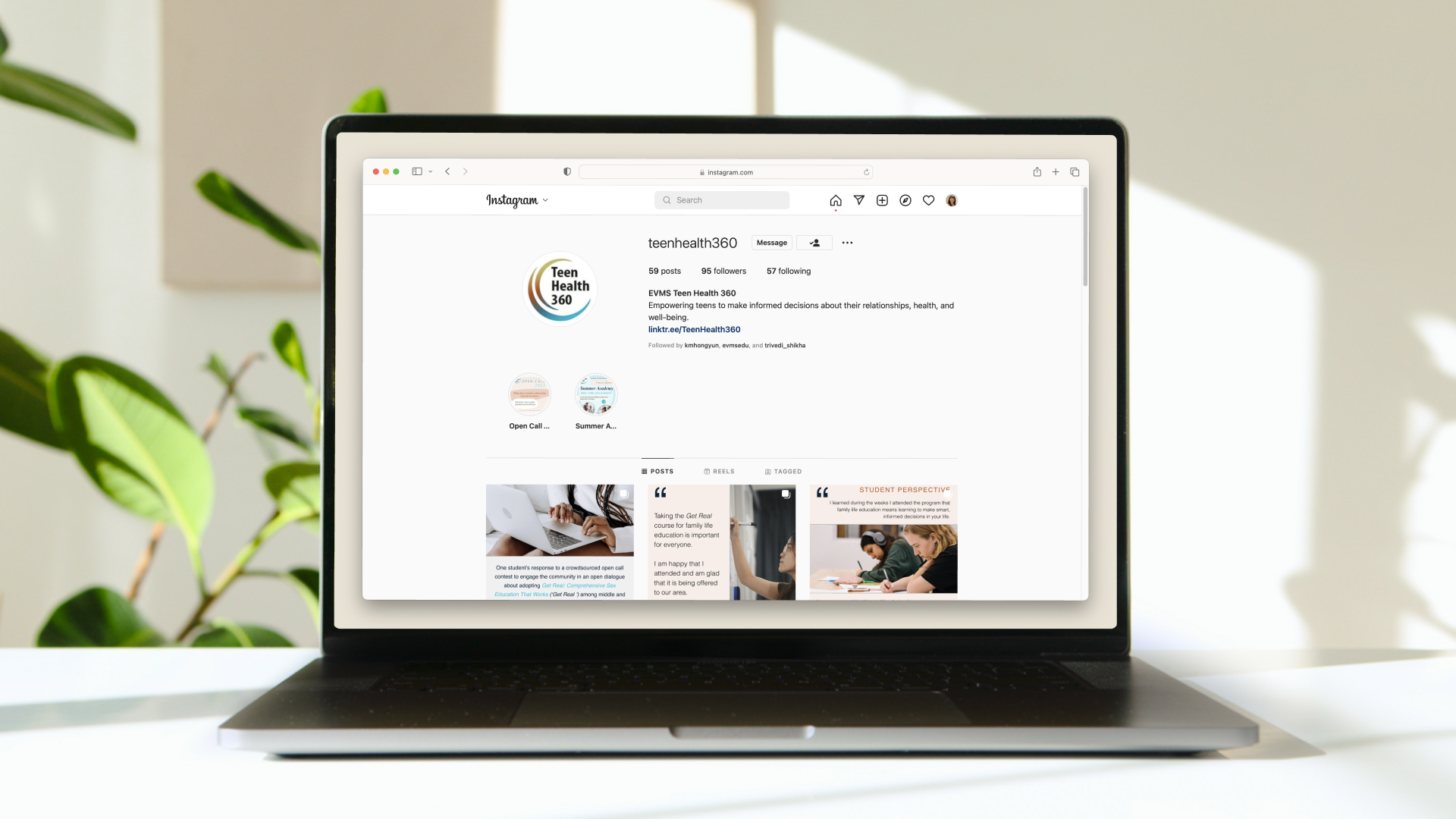 GOALS
At the end of this project, EVMS Pediatrics will have 3-4 months of social media visual content featuring the collective voices of youth, families, and the community from open call submissions to support the delivery of an evidence-based family life education curriculum to youth in schools.
PROJECT ROLE
As the visual designer for this project, I worked closely with the Teen Health 360 project team and stakeholders, including the EVMS Pediatric public health research physicians, EVMS medical students, and a project workgroup of school-age youth volunteers.
DELIVERABLES
3-4 months of social media visual content formatted for the Instagram platform: 130+ individual images

Project style tile: color scheme, color grouping patterns, and typography parameters.

Project files synced to a group Google Drive.

A project Playbook allowing users to view and download and share multiple subfolders of content, also with backups of project files, reference documents, and links to original design files.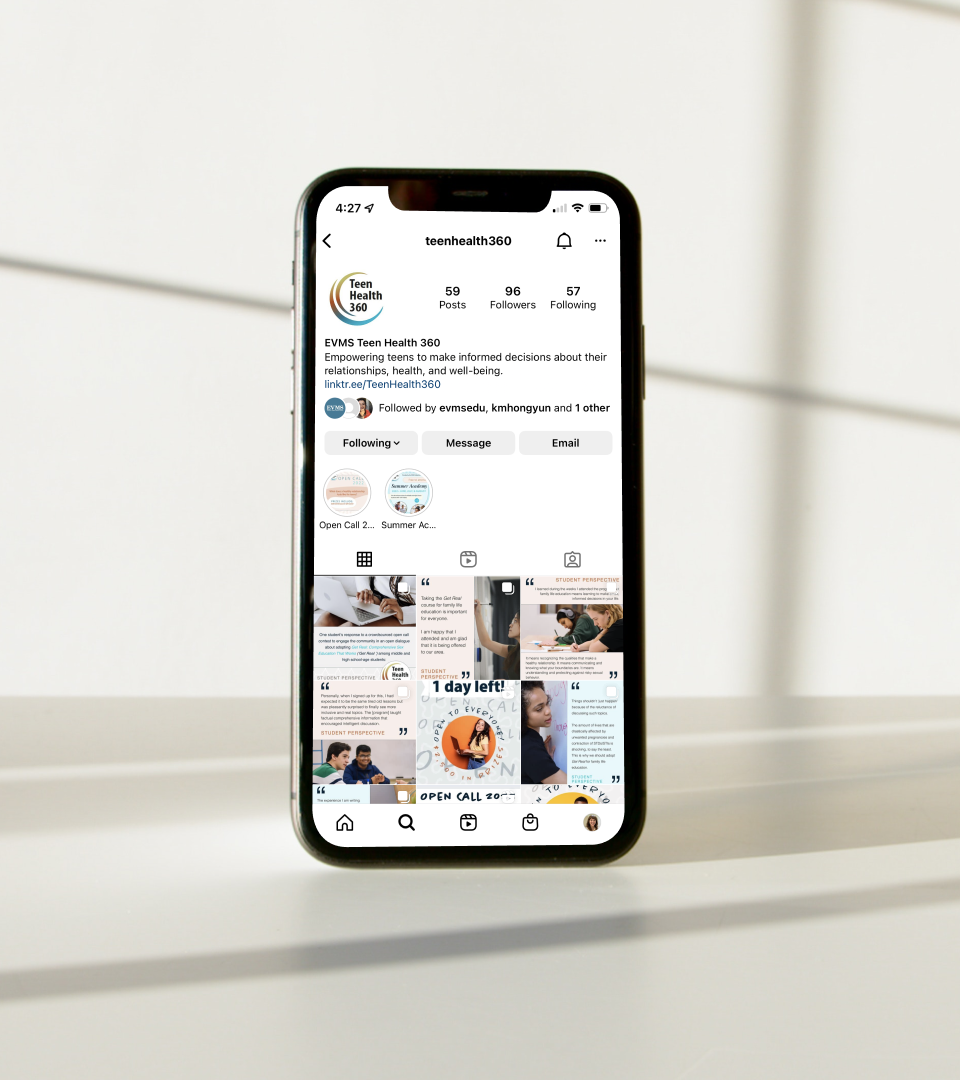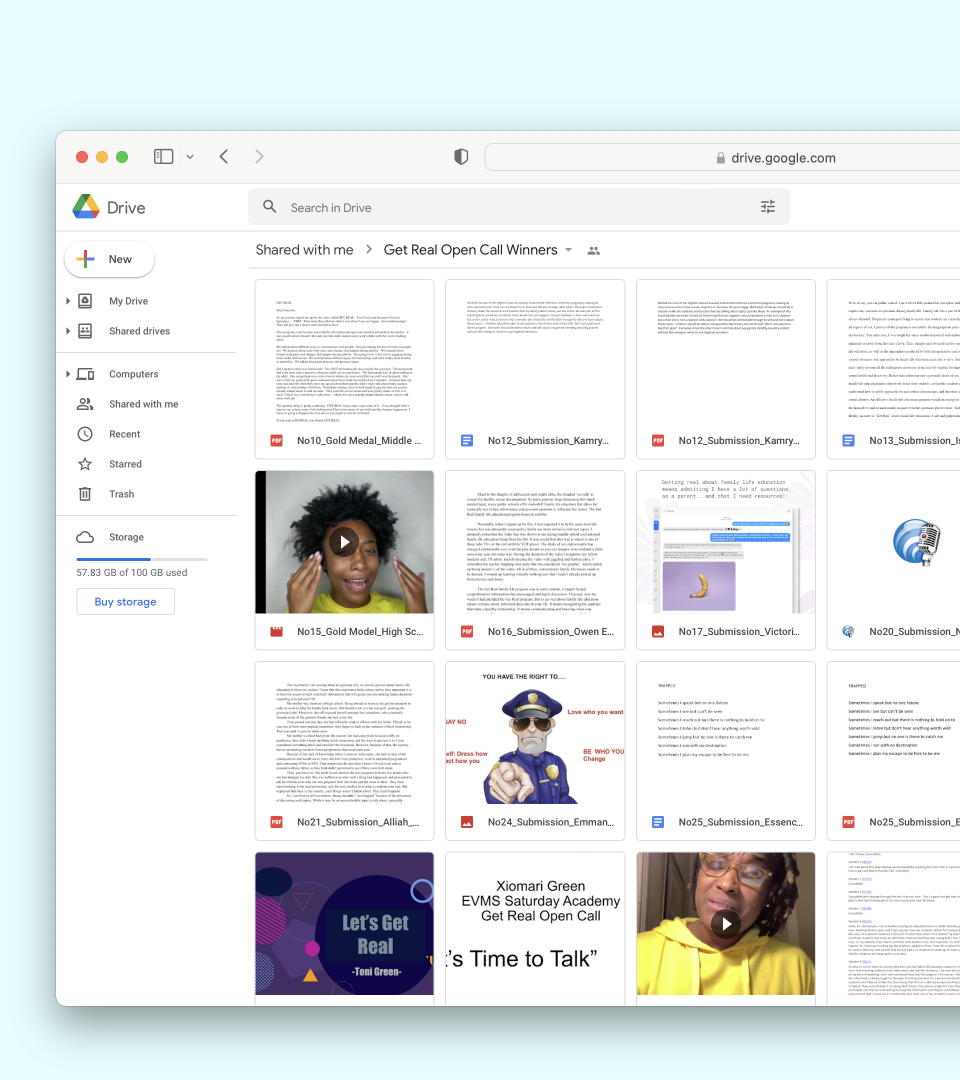 RESEARCH + CONTENT ASSESSMENT
After initial meetings to discuss the EVMS Pediatric team's goals for the social media project, I set up a Google Doc to create a shared virtual workspace for the team and project volunteers.
We began meeting virtually weekly and viewed the top 23 submissions to the crowdsourced open call.
Using a shared Google Drive for project files, we developed and executed a plan to assess and evaluate the content, then established general themes expressed by participants, defined specific goals, and began selecting text and images for the social media visuals.
As this process continued, I began researching other public health initiatives' approaches to social media campaigns and design trends.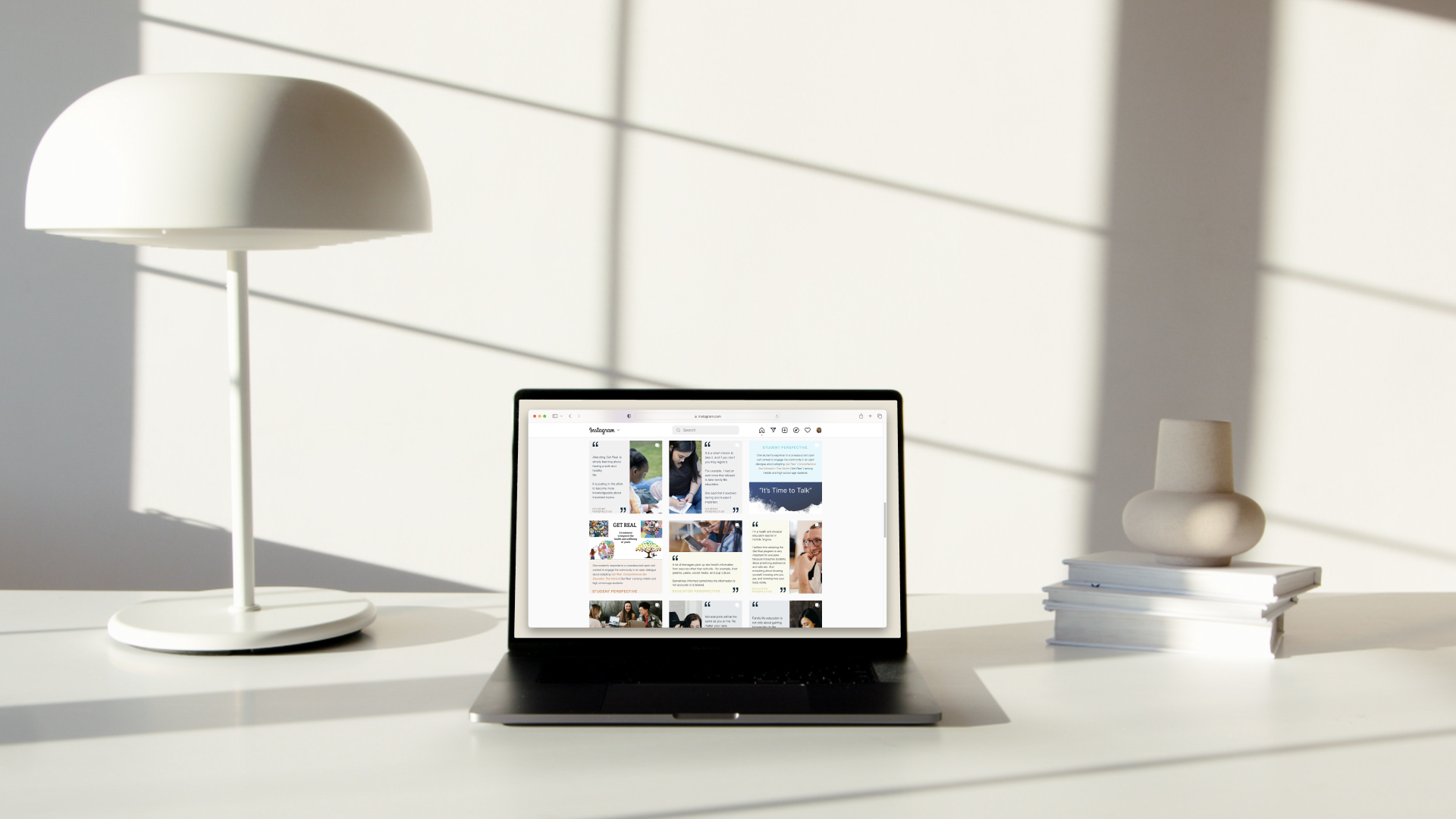 DEVELOPING VISUAL STRATEGY
The Eastern Virginia Medical School (EVMS) is a diverse and large institution with specific policies and guidelines for marketing and communications materials, as well as a comprehensive visual identity guide. Much of what EVMS produces in-house for digital media is designed for professional or even clinical settings.
Designing for the Teen Health 360 pilot program targeting a variety of stakeholders: teens, parents, educators, and communities at large, I wanted to strike a balance between expressing the institutional professionalism and solid reputation of public health researchers with creating eye-catching graphics that would get the attention of someone casually browsing on social media.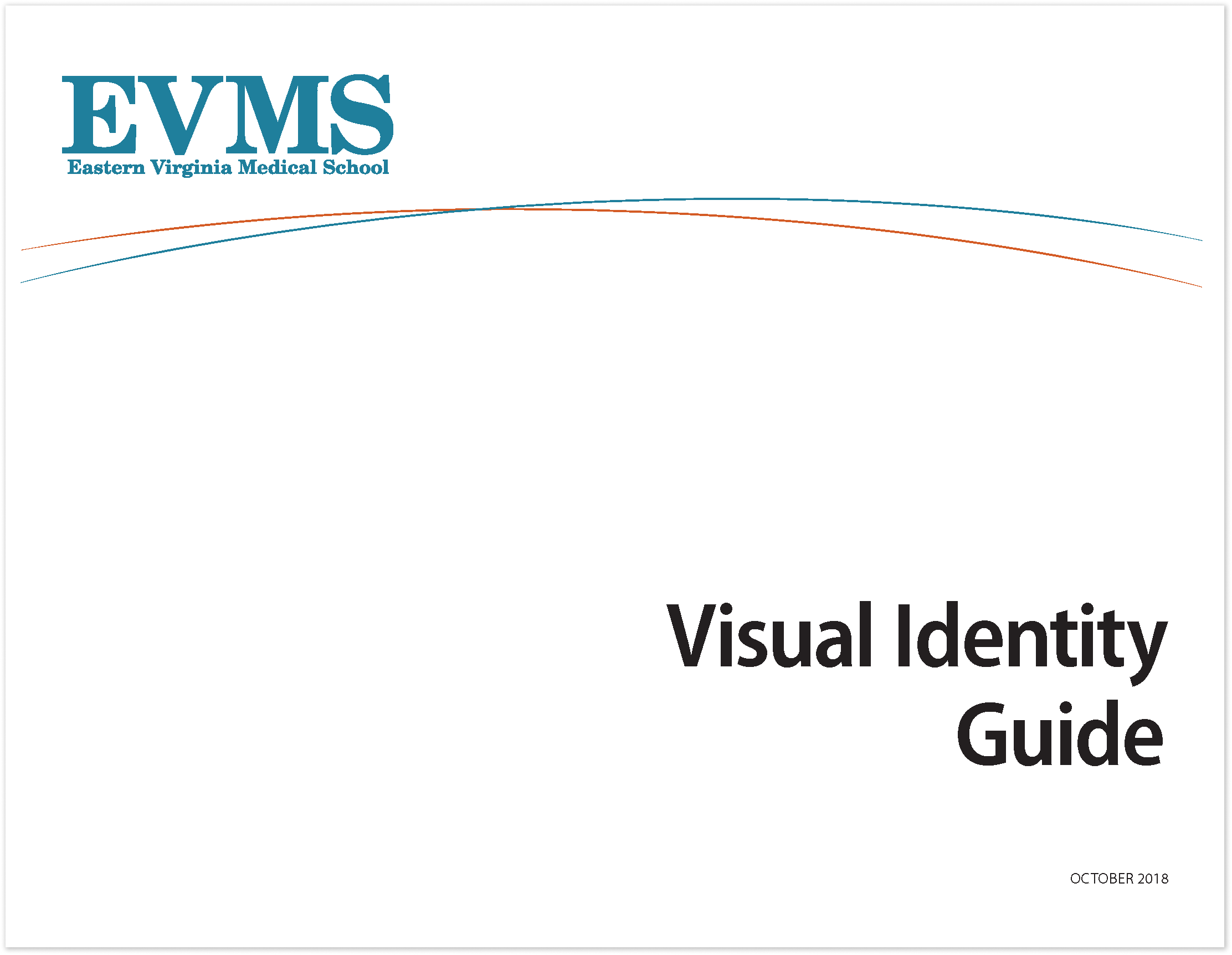 EXISTING CLIENT/ INSTITUTIONAL VISUAL IDENTITY
After the EVMS Pediatrics team discussed the project parameters and goals with the internal Marketing & Communications department, it was determined that following the visual identity guide for the program's social media campaign would not be strictly required.
It was established, however, that keeping the look and feel of the visual assets somewhat in alignment with the institution's pre-existing visual identity would help align and reflect the goals of the pilot program.
I took a great deal of care to read the policies, reference documents, and specific EVMS Visual Identity Guide to familiarize myself with the general aesthetic of the institution. I also investigated other public health initiatives targeting teens, other programs for family life education, and other applications of crowdsourced material on social media platforms.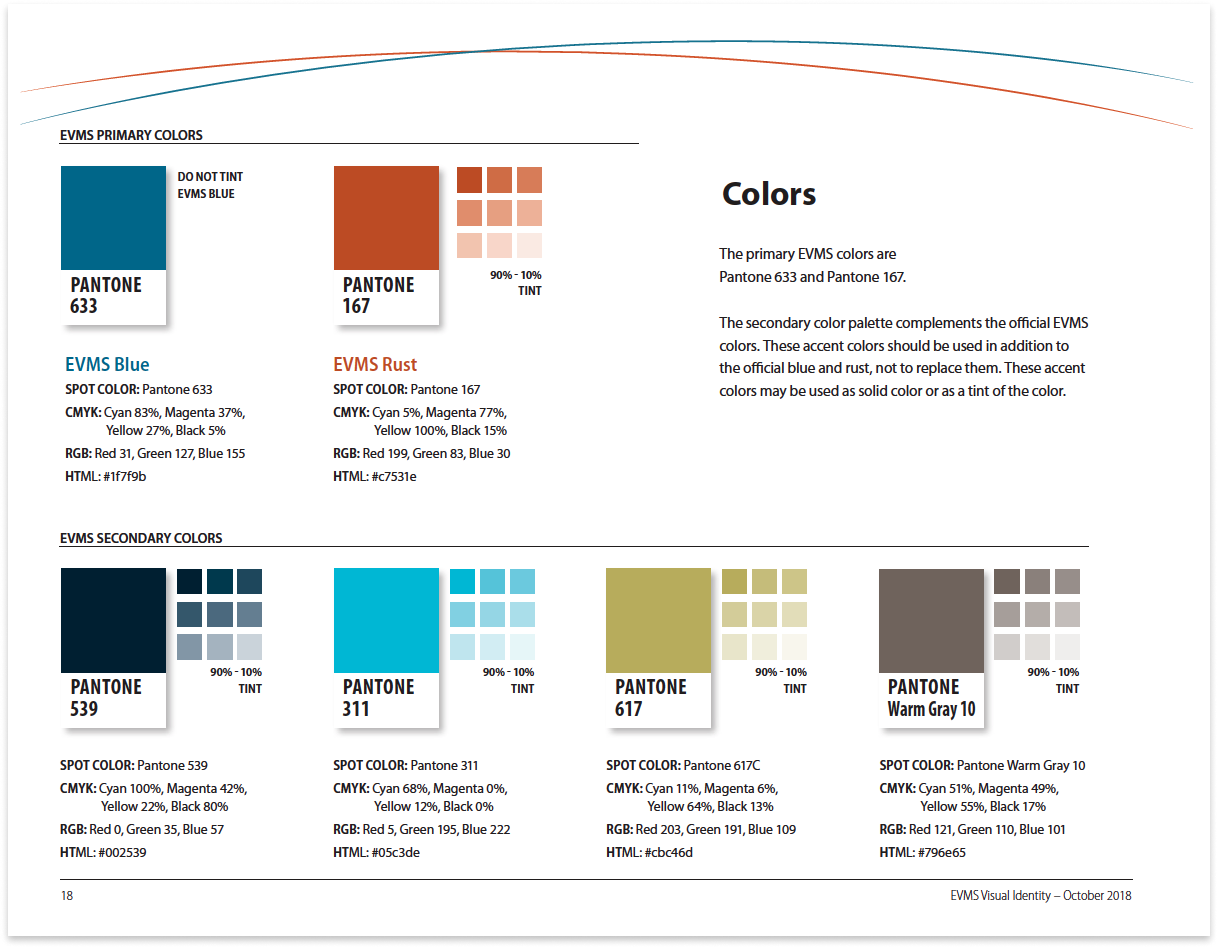 COLOR SCHEME
When familiarizing myself with the EVMS color scheme in the visual identity guide, I noted that the tints of each secondary color were approved for usage in addition to the primary 'EVMS Blue'.
I was inspired to use a 10% tint of each color as background accent colors for the social media content templates I'd be designing, pairing each with the full 100% saturation as an accent color for headings and subheadings. This decision established five unique color pairings that can be rotated for visual variety while maintaining a cohesive visual identity for the project.
TYPOGRAPHY
I wanted the social media assets to complement and align with other items being produced for the Teen Health 360 program (presentation slides, promotional flyers, curriculum items, program website, etc.) which meant choosing EVMS-approved fonts and substitutions that these other items would be utilized in the future.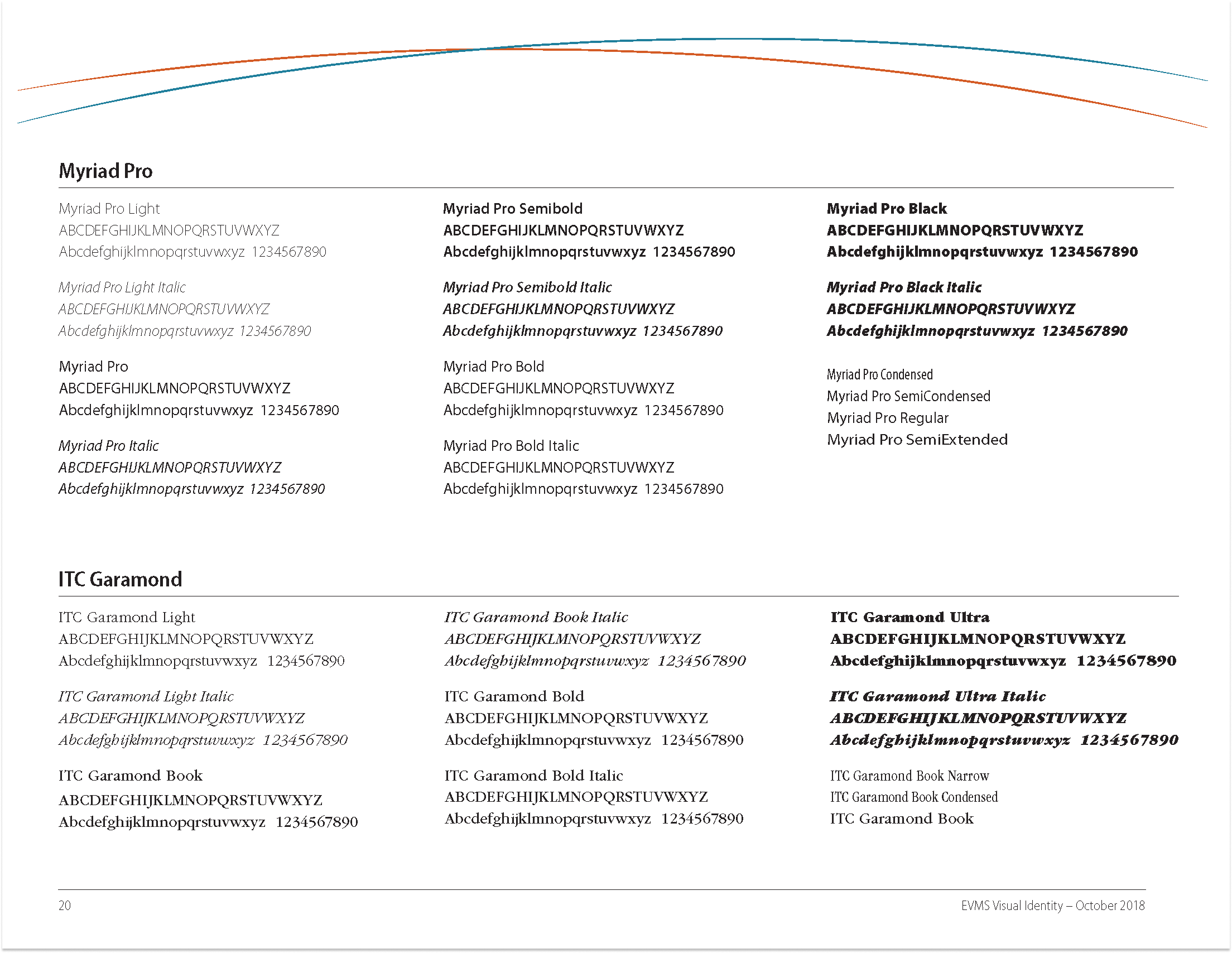 As the official logomark for the program was still in development when I began designing social media assets, I chose to use Adobe Garamond Pro, an approved serif font substitution for the program name, "Teen Health 360."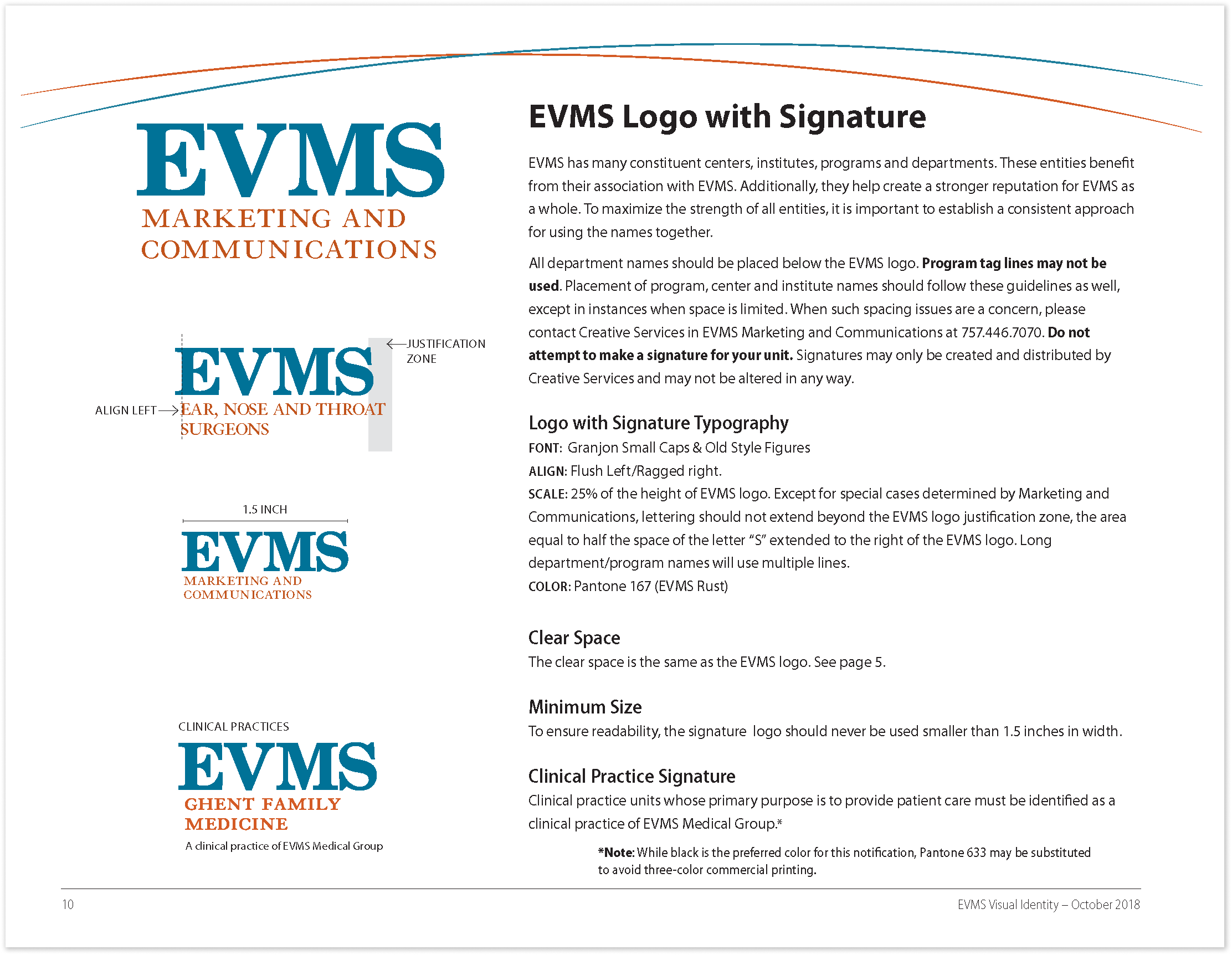 In EVMS' 'Logo with Signature' guide, a similar font 'ITC Garamond' is used for indicating departmental and program titles below the main EVMS logo.
I felt that even if an entirely new logo for the program were adopted at a future time, the assets already designed would still work within the general aesthetic for the program and supporting institution.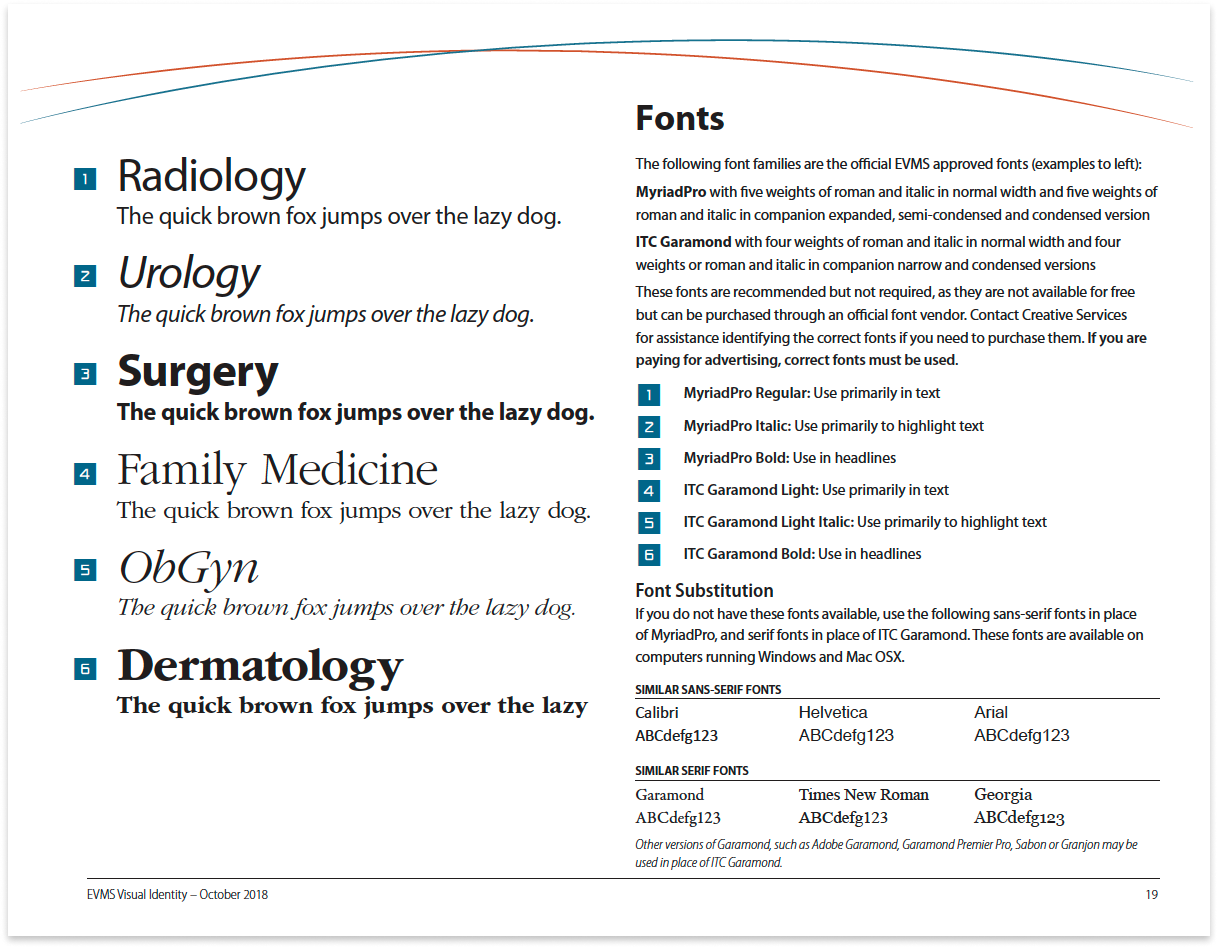 For the headings, subheadings, and body text, I wanted to select a clean, modern sans-serif typeface that would stand out on social media but is conservative enough to function well across a variety of platforms.
I also wanted to work with a font that was on EVMS' list of approved font substitutions and found that Helvetica Regular and Light would work well for the large amounts of text-based content I needed to format visually.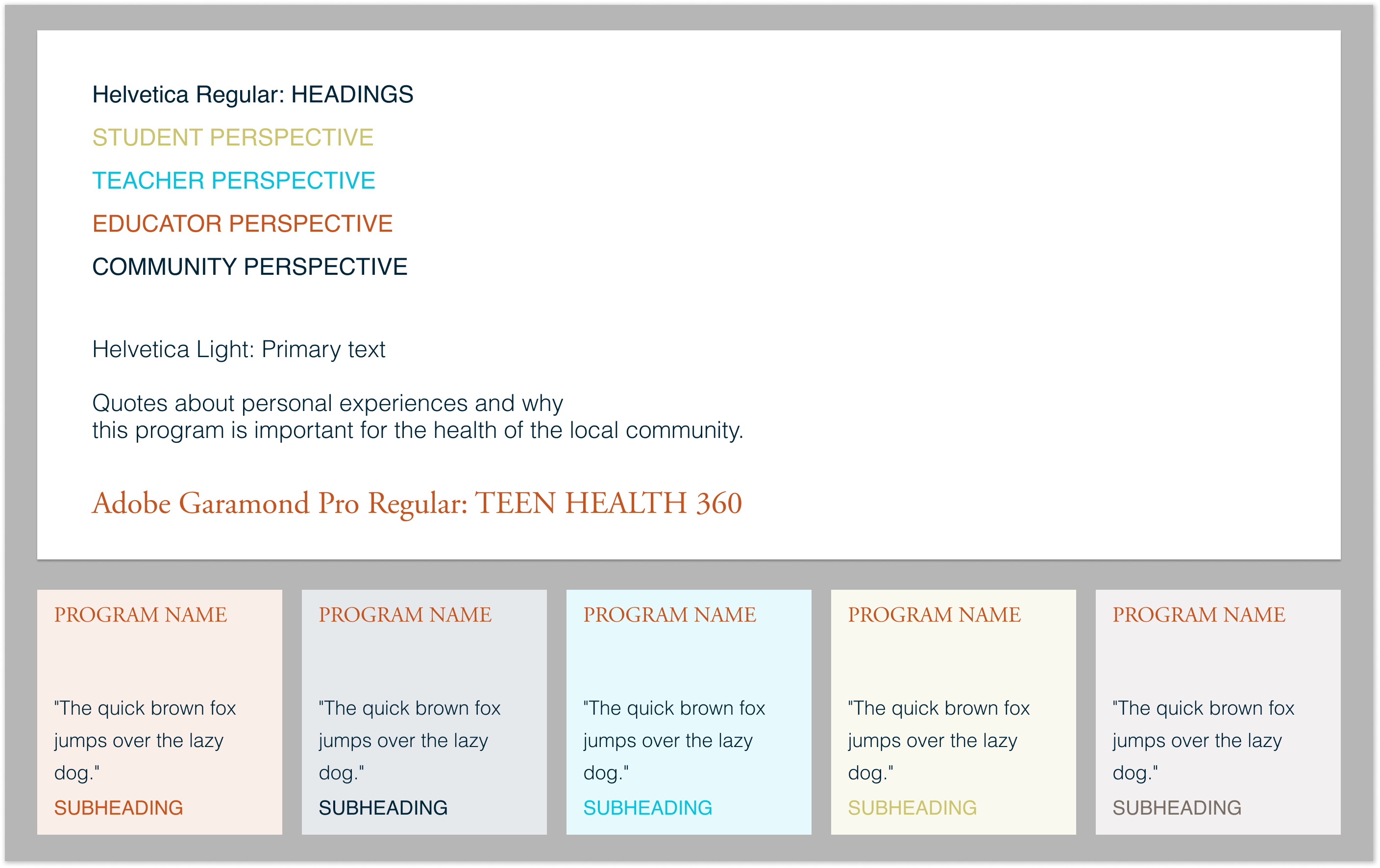 PROJECT STYLE TILE
Before moving on to designing the templates for social media posts, I carefully put together a style tile in Figma for the project with all the different color and type combinations placed together. I wanted to verify that the color scheme and typography choices were reflective of the projects' goals of appealing to an audience of varying backgrounds while maintaining the trustworthy institutional visual identity of the larger EVMS institution.
I also knew from previous projects that taking the time to set up the color and text styles in a Figma library was an important step that would significantly speed up my workflow for the duration of the project. This allowed me to confidently begin the process of creating templates for the project, focusing next on the visual structure and accompanying imagery.
DEVELOPING TEMPLATES
Due to the volume and variety of formats of content from open call submissions that needed to be formatted for social media, I determined that the most efficient way to unite them visually was to create a set of templates that could be quickly rotated and altered.
Creating them initially in Figma allowed me the most time-effective way to duplicate template slides, and rotate in the new text and visual content. (Having had multiple discussions with the EVMS Pediatrics team about privacy concerns for participants, I prioritized using commercially-licensed stock photography to accompany the personal quotes and stories. I took great care to pursue multiple sources for images that reflect the diversity of the target audiences.)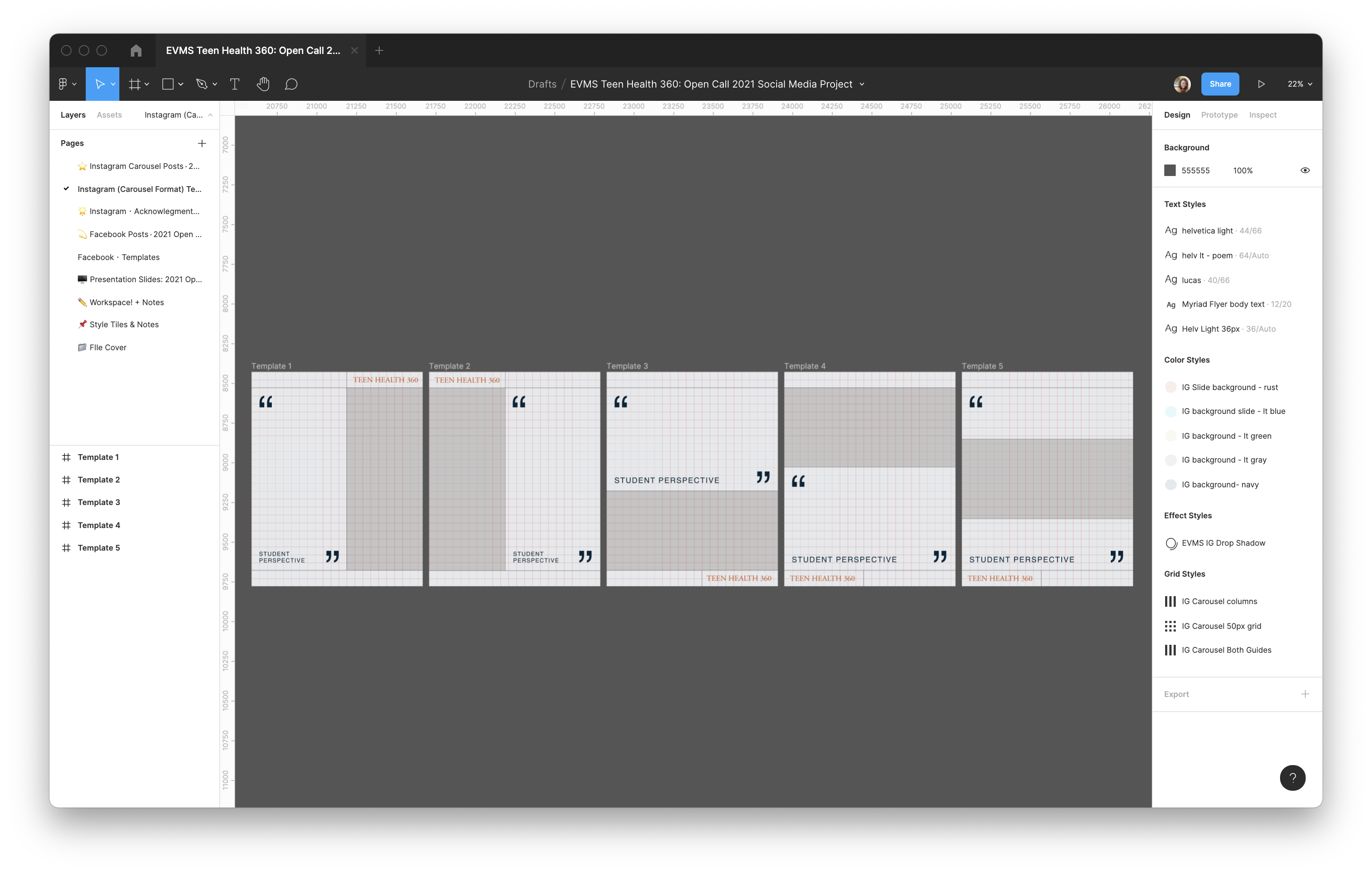 The core set of templates was designed to be clean, simple canvases for the images and words of the voices being shared to be the primary focus.
I also wanted to keep the minimalist design flexible to allow for future reformatting across different platforms in the future or other uses by the EVMS Pediatrics team. The simplicity of the layout also provided me with the ability to smoothly add and subtract additional slides as needed for each post design.
I designed five core templates that featured one of the EVMS secondary accent colors as a solid background, several sections of a white vector pattern accent, a section for a text quote, a space for a featured stock photo, the name of the program, and a subheading indicating which open call perspective was being shared.
Using the library of colors and text styles I'd previously set up in Figma, I began creating sets of posts formatted for Instagram from participants' submission content.
CLIENT FEEDBACK
After sharing several sets of formatted posts with the client as examples, we discussed how they felt about the general direction of the project. They communicated that they were happy with the stylistic choices and structure I'd developed, however, due to the complexity of developing a new public health program with many stakeholders, they'd need to make several changes, mostly involving text-based information.
As they were further along in developing their version of the program for use in local schools, they wished to change some of the language and configuration of terms that were adjacent to several copyrighted terms from the curriculum source material, 'Get Real: Comprehensive Sex Education That Works' (Get Real) developed by the Planned Parenthood League of Massachusetts (PPLM).
We communicated with the program staff at PPLM to ensure that we were handling references to the Get Real curriculum properly. Those changes were made swiftly and established helpful, clear syntax rules for everyone moving forward.
The Teen Health 360 team decided that they needed to include an additional 2-3 slides with each post providing more information about the open call crowdsourcing project, the 'Get Real' curriculum topics, and acknowledgments of funding and community partners. As I had previously created multiple templates for formatting open-call content, it was a smooth process to reuse them as a foundation for those additional slides.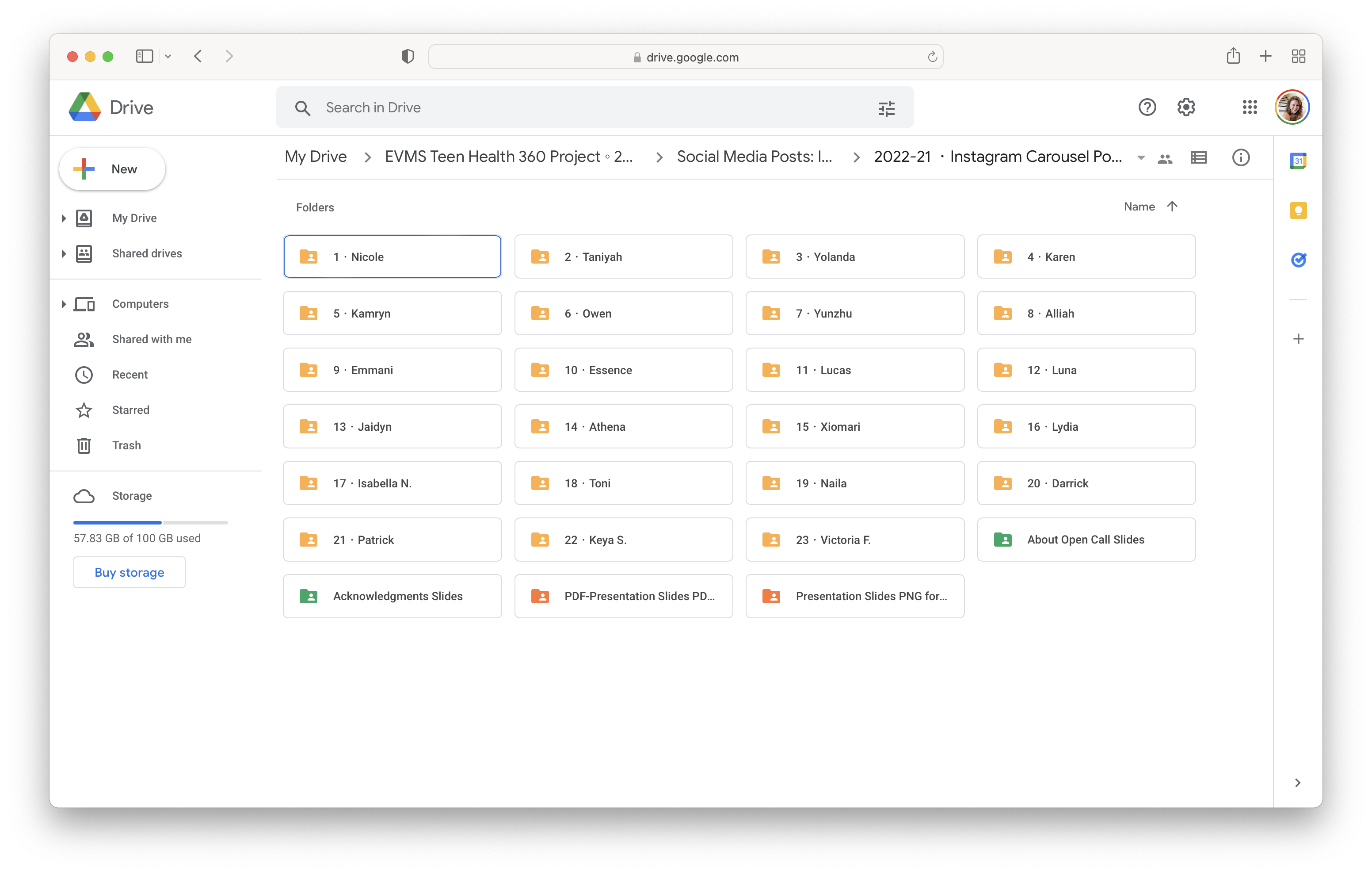 ITERATION
I made the adjustments and text edits as requested, and began the process of formatting the remainder of the open call submission content, using the new information and custom post templates.
After a final review of the additional slides created, I ensured that all of the design files were organized for future usage. This included checking that all elements were aligned to the grid system I'd set up, removing any leftover placeholder images/text, and clearly labeling layers, artboards, and miscellaneous design assets.
Once I'd given everything a thorough check, I exported each series of formatted posts to a coordinated Google Drive and Playbook for handoff to a social media manager and Teen Health 360 staff.
This is a selection of images produced for the project: to view all designs and additional project assets, please visit the project Playbook, view the design file live in Figma, or view it on Instagram at @teenhealth360
+5
MONTHS OF CONTENT CREATED
+130
INDIVIDUALLY FORMATTED IMAGES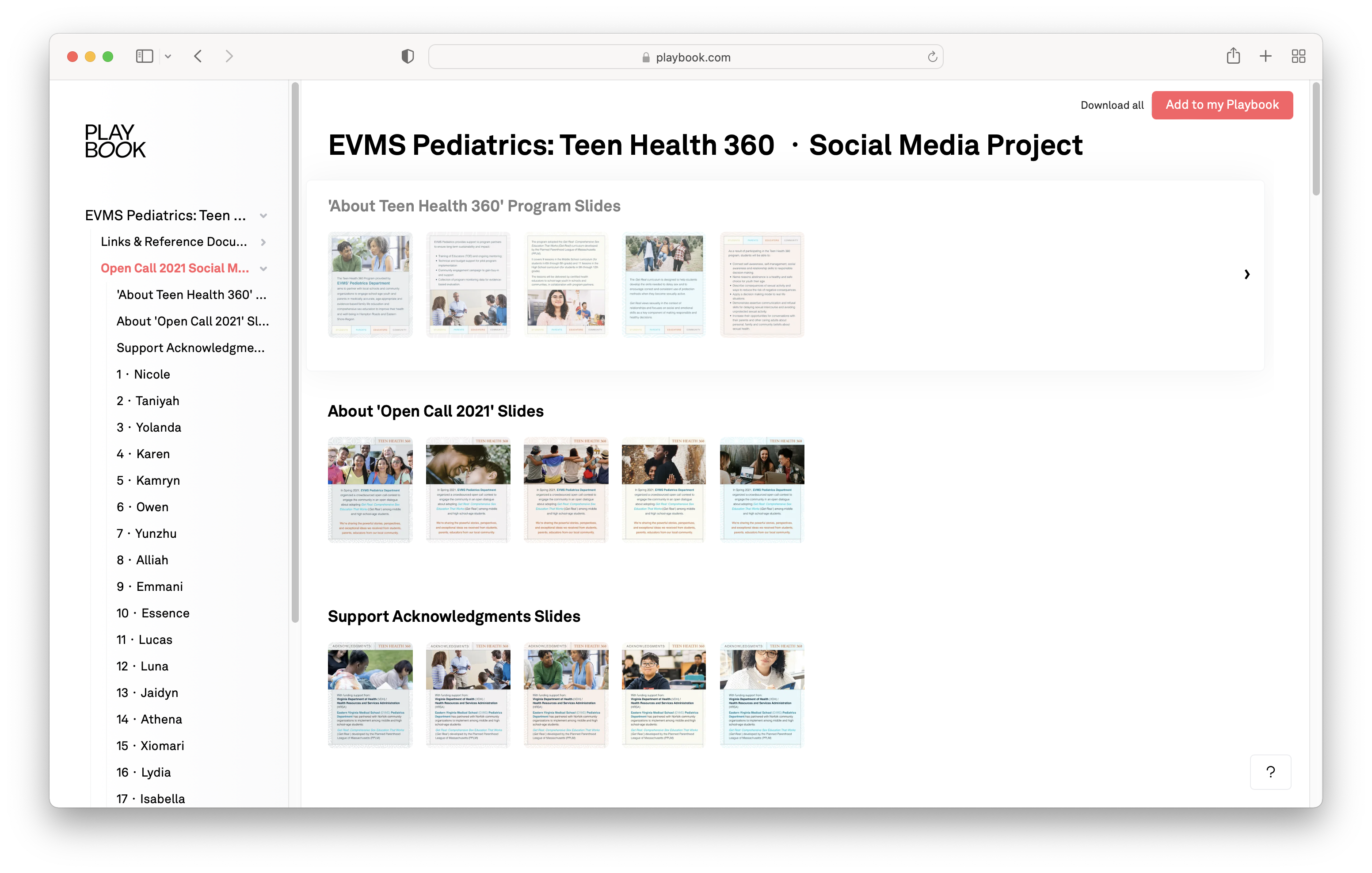 LEARNINGS
Producing a large amount of formatted content to meet the project's goals of awareness and engagement on the Instagram platform was a project that required me to research not only design trends in social media content design but also best practices for organizing content over a specific length of time.
The goal for the project was initially to produce enough posts for a quarter of a year, and I met and exceeded that initial goal, giving the team a range of community stakeholder perspectives to share.
01
This project allowed me to improve my skills and workflow speed using Figma, a design tool I chose for this project initially for its ability to share and collaborate on design files remotely.
This also provided the added benefit of allowing EVMS' internal creative service department, EVMS social media staff, and PPLM to view the designs easily, giving the Teen Health 360 team guidance and approval on the creative and strategic direction of the campaign in an ongoing way.
02
A notable challenge that materialized toward the end of the project was the TH360 team's problem with viewing exported assets (Instagram post images) in shared a Google Drive workspace. (The current limitation of only being able to visually review the contents of one folder at a time.)
Using Google Drive worked very well when reviewing and approving individual posts-but the Teen Health 360 team found it challenging to look at all the assets created collectively and begin to plan an effective social media content calendar.
Hence, I uploaded all the project files into a Playbook, which does have the functionality of viewing multiple subfolders of content visually. This wound up being an excellent solution, and a terrific way to back up important project resources and references for future use by others.
03
A significant takeaway from this project was the value of accessibility in creating templates and design patterns that could be quickly duplicated.
As work on the pilot program itself developed over the months, I learned that keeping a simple, cohesive layout with interchangeable elements was critical to accommodating the many changes and iterations required for a program that was still evolving in structural organization and language choices.
I discovered that the addition of vector patterns that added personality to each post was the final touch required, creating a cohesive (yet visually diverse) look to a large body of content.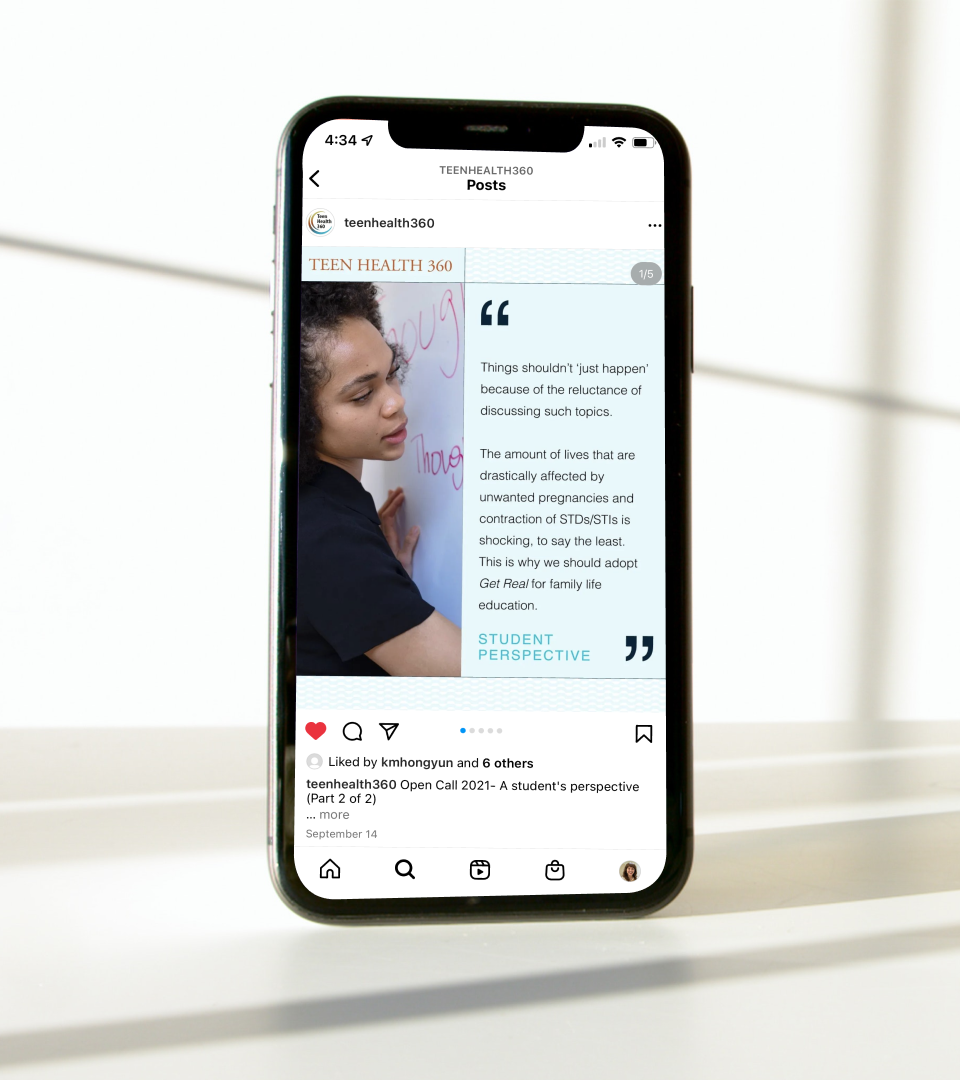 I designed a set of templates for social media posts, utilizing them to develop a calendar quarter year of content from 23+ crowdsourced open call submissions for a teen public health education program. I created a set of cohesive visuals to increase awareness and engagement for the program in support of further adoption and delivery by local communities and school systems.
The simple grid-based layout I chose for the Instagram post templates is flexible enough to accommodate a variety of content and supports the development of a consistent brand personality. Aligning aesthetic choices of color and typography with EVMS' existing institutional visual identity parameters provides a foundation for future design work to be smoothly incorporated with this body of work.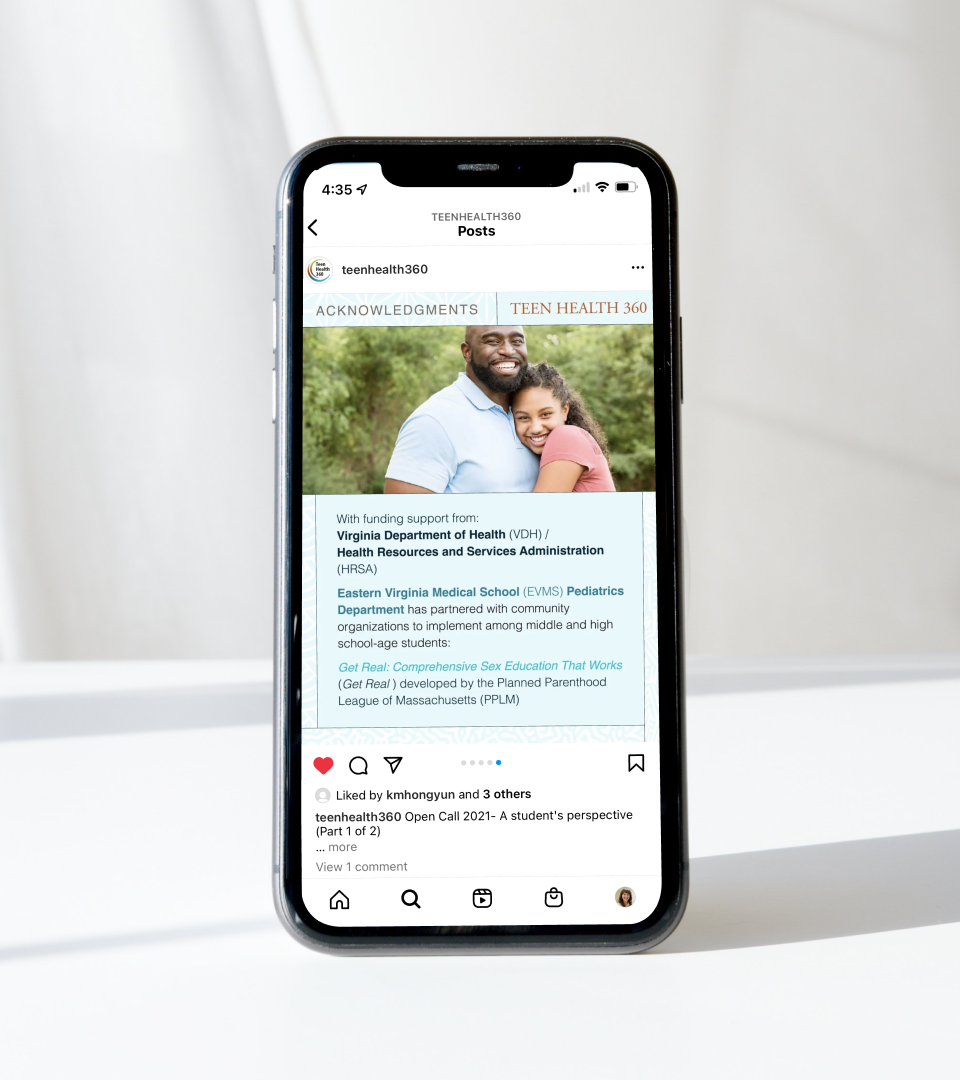 I worked closely with the Teen Health 360 project team and stakeholders, including the EVMS Pediatric public health research physicians, EVMS medical students, and a project workgroup of school-age youth volunteers. The entirety of the project was completed remotely (due to Covid-19 restrictions), providing me with invaluable experience in effectively communicating and collaborating with a variety of professionals and community members.
The EVMS Pediatrics Department was provided with final designs in both the original Figma design file format and exported files in proper dimensions organized in Google Drive, along with project reference documents. To make the handoff to the social media manager as frictionless as possible, the visual assets were also compiled into a Playbook, which allows users to view and download multiple subfolders of content in one browser window view.
The Teen Health 360 account was officially launched in the Spring of 2022 at @teenhealth360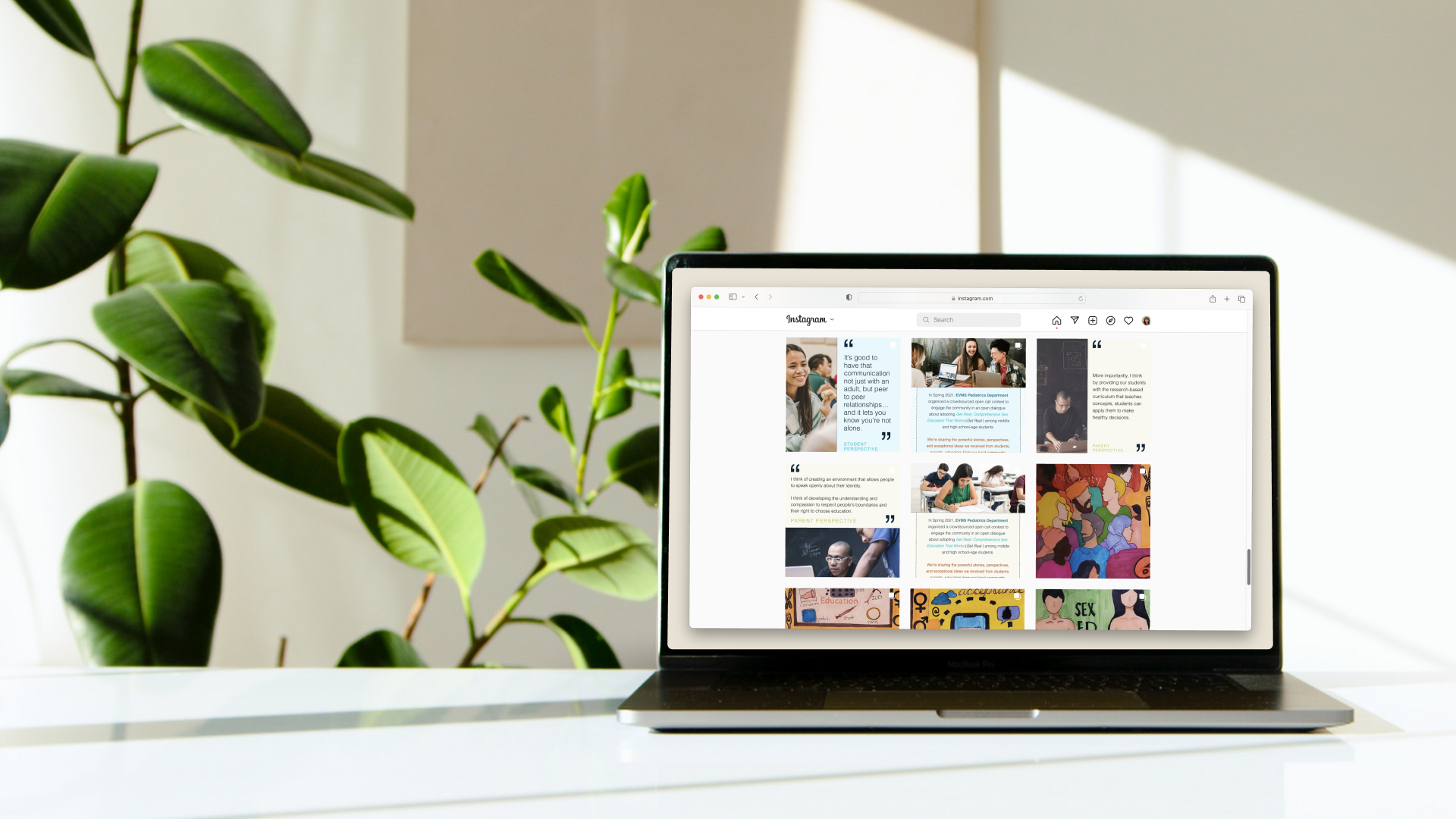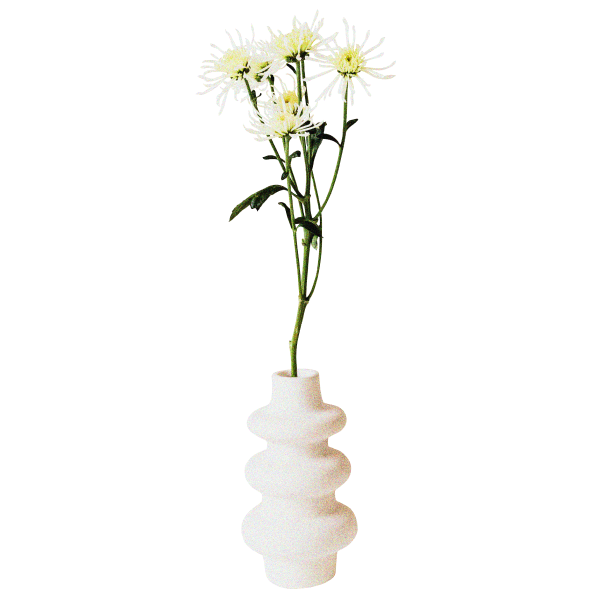 Thanks for taking the time to look at my work!
Need help getting started on a project?
Questions about my work or availability?
Send me a note anytime, connect with me on LinkedIn, or see what I'm up to this week on Instagram!